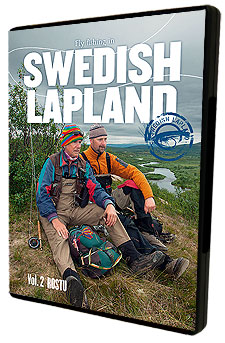 62 min + 48 min bonus (2012)
The harsh landscape of northern Lapland is where the author and fly fisherman Gunnar Westrin feels happiest.
When he first discovered the area, almost fifty years ago now, he was enchanted by the mysterious sand dunes, the golden sparkle of the grayling streams and the broad-backed bodies of the grayling.
Gunnar and his fishing buddy Palle Andersson enjoy the overwhelming silence, the distant blue horizons, the mysterious sand dunes and, above all, the spectacular grayling fishing.
These are the most extensive reindeer grazing areas in Sweden, in a region where environmental considerations in both thought and practice are of the greatest importance. In this "land of the four winds" the magnificence, the authenticity and the solitude are probably the most important aspects of our life in the wilderness.
The film shows some stealthy fly fishing for grayling in these crystal-clear waters, and confirms that both friendship and living in a tent are essential components.
The bonus material provides tips about flies and equipment, as well as information about the fishing itself.
"Rostu" is part of the "Swedish Lapland" series with Gunnar Westrin, which also includes "Kaitum" and "Laponia".
The film is available as Streaming/DVD on Flyfishingfilms.com