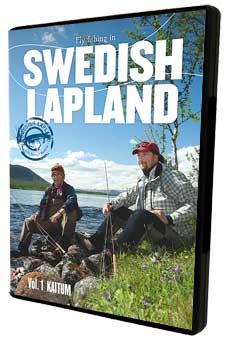 60 min + 50 min bonus (2012)
The Kaitum River in Lapland is a vision of fly fishing at its best, an unspoilt river beyond compare. Together with his friend and fishing companion Palle Andersson, the Swedish author Gunnar Westrin takes us on a pleasurable trip through the valley.
With Tjuonajokk fishing camp as our starting point, enjoy the fabulous grayling fishing, tempt colourful trout and char to bite and revel in the delights of absolutely world class fishing waters.
Fly fishing is about so much more than just catching fish. Delight in the unique landscape and listen to the interesting musings and discussions.
Important threads running through the film are thoughts about the wild, untamed river, life-long comradeship and the gratitude felt at once again being able to fish unspoilt waters.
The bonus material provides you with tips about flies and equipment, information about the fishing itself, and much more.
"Kaitum" is part of the "Swedish Lapland" series with Gunnar Westrin, which also includes "Rostu" and "Laponia".
The film is available as Streaming/DVD on Flyfishingfilms.com