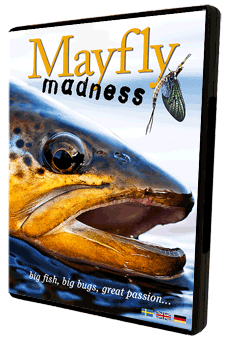 60 min. + 50 min. bonus (2010)
Join Johan Klingberg and Ulf Börjesson during three seasons of fly fishing at the most thrilling time of the year.
In early summer, when the Ephemera Danica and the Ephemera Vulgata hatch, there's a good chance of catching the very largest of trout in these rivers.
Johan and Ulf travel to some of their favourite rivers in southern Sweden in the hunt for mayflies and giant trout.
On the Bonus tracks Johan and Ulf ties their favourite Mayfly patterns, and you get some valuable tips on fishing tackle from Ralf Raacke.
The film is available as Streaming/DVD on Flyfishingfilms.com