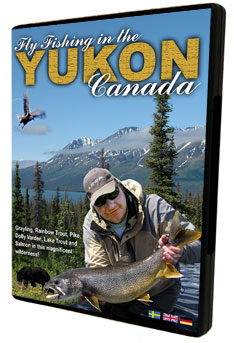 56 min. + 32 min. bonus (2006)
A beautiful film from one of the world's last wildernesses.
A wide range of fishing in lakes and fast-moving rivers is on offer for the fly fisherman. The variety is what makes fishing here so interesting – there's always something to catch throughout the season.
We are fishing for lake trout, pike, grayling, rainbow trout, Dolly Varden and different sorts of Pacific salmon.
We even get a chance to see the bears, moose and eagles of the Yukon, as well as an insight into the history of the gold miners.
It's easy to be part of the fishing and wilderness experience offered by the Yukon!
The film is available as Streaming/DVD on Flyfishingfilms.com