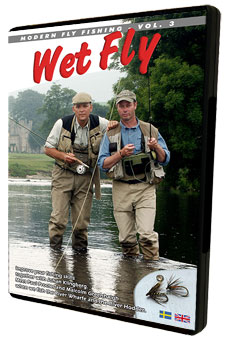 83 min. + 33 min. bonus (2010)
Join Johan Klingberg in his interesting meetings with professional fly fishermen. In this unique film you'll get really close to Paul Procter and Malcolm Greenhalgh as they share some of their extensive knowledge in both classic and modern wet fly fishing.
You'll also get professional instruction in some of the most important wet fly techniques which are used for grayling, rainbow and brown trout in our Scandinavian and European waters.
As well as fishing and fishing methods in England, Sweden and Norway, extra material about fly tying is also included.
The film is the third of four in the series "Modern Fly Fishing".
The film is available as Streaming/DVD on Flyfishingfilms.com