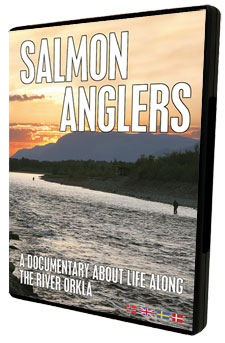 1 h 31 min + 50 min bonus (2014)
Salmon Anglers is a documentary unlike any other, where we'll meet some Orkla fishermen and follow their fishing adventures in different parts of the river over a period of two years.
Salmon anglers are unlike any other people. Our deeper relationship with these fishermen will provide an insight into their tactics and strategies, their thoughts and emotions.
The film shows fishing in early June, in a cold river, but with that special light during those magical nights, fishing for grilse in summer, and fishing in August, when the colours of autumn start to appear.
In the bonus material we are given tips about tackle from Trond Syrstad, tips about choosing flies from four experienced local anglers, information about the waters of the Orkla, and much, much more.
The film is available as Streaming/DVD on Flyfishingfilms.com