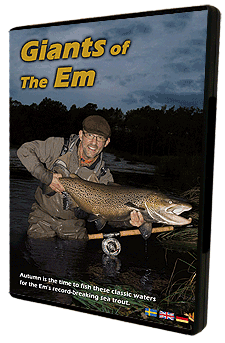 56 min. + 54 min. bonus (2009)
With Em Manor as our starting point, we take part in the exciting fishing in classic waters during the autumn of both 2007 and 2008.
The Em is famous for its record-breaking trout. Every year during August and September they migrate from the sea and up the river to spawn, ensuring the future of the breed.
Of all the world records for sea trout caught on fly, eight out of ten are recorded on this small Swedish river. We'll meet a couple of the record-holding fishermen who'll tell us their tale.
The largest trout in the film is caught by Mikael Frödin, and weighs an impressive 11.6 kilos!
In the bonus material Mikael gives us a few tips about flies and ties one of his favourites. And Håkan Norling provides some practical advice about equipment.
The film is available as Streaming/DVD on Flyfishingfilms.com