45 min (2020)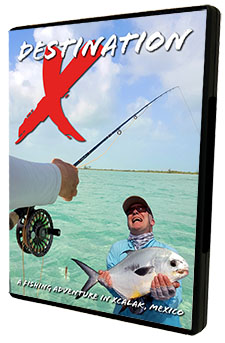 A fishing adventure in Xcalak, Mexico! The small remote fishing village of Xcalak is right on the border to Belize and deep in the Mexican jungle. We are joining the fishing pals Molle, Stefan, Johan, Ole and Jussi from who have left the Scandinavian winter to experience intense weeks of "hot" fishing in the Caribbean. It's exciting surroundings with its salt water lagoons, the long reef and all the mangrove islands and narrow canals.
Here you will find ruins of Mayan temples and a rich animal life with interesting birds, iguanas, jaguars, mountain lion and crocodiles. A real adventure for our Vikings! But above all it's the fishing that has drawn to Xcalak and the large national park guarantees a great variety of species on the shallow flats. And the fish we catch give us unforgettable fights.
The saltwater fly fishing is very challenging and just wonderful. Join us in a fishing adventure that beats the most!
The film is available as Streaming/DVD on Flyfishingfilms.com